Door 8pm / Show 9pm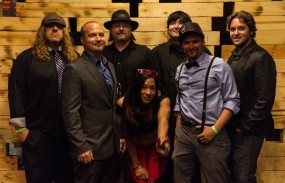 Mojo Green, a seven piece outfit from Reno is quickly becoming known as one of the premier funk and soul bands on the west coast. Made up of: Frank "Fletch" Fletcher on Drums and Trevor Rice on Bass laying down the tight and funky grooves that create the foundation, with Tim Bain on Guitar adding some tasty, deep funk rhythms and blistering lead lines, a powerhouse heavy horn section composed of Kevin Thomas on Bari Sax, Monty Adams on Trumpet and John Bennum on Trombone with Jenes Carter adding her Soulful and Sexy vocal leads, Mojo Green plays a style all their own that is extremely funky, very sexy and of course super danceable.
Founded in Oakland, California in 2008 The Funk Revival Orchestra was established to bring old school rare funk, grooves and soul to the masses.
With 10 members and growing F.R.O. brings a high energy, heavy sound to audiences throughout California with a style that blends the latin, breakbeat, hip-hop and rare groove feels into one package.
TICKET INFORMATION 
• Great American Music Hall is an ALL-AGES (6+) venue.
• No refunds or exchanges are permitted, except in the case of headliner cancellation or date change. Opening acts are subject to change.
• NEVER buy third party tickets (Craigslist, StubHub, etc.) for over face value. Scalped tickets may not be honored.
• Once you purchase, you will receive an order confirmation email from Eventbrite on behalf of Slim's Presents.
• IMPORTANT: If you do not see your order confirmation in your inbox, make sure to check your junk/spam folder. If you still do not see your order confirmation, click here to access the Eventbrite help center.
• If you are having any other technical ticketing-related issues with your order, click here to contact Eventbrite. For general show info, click here.